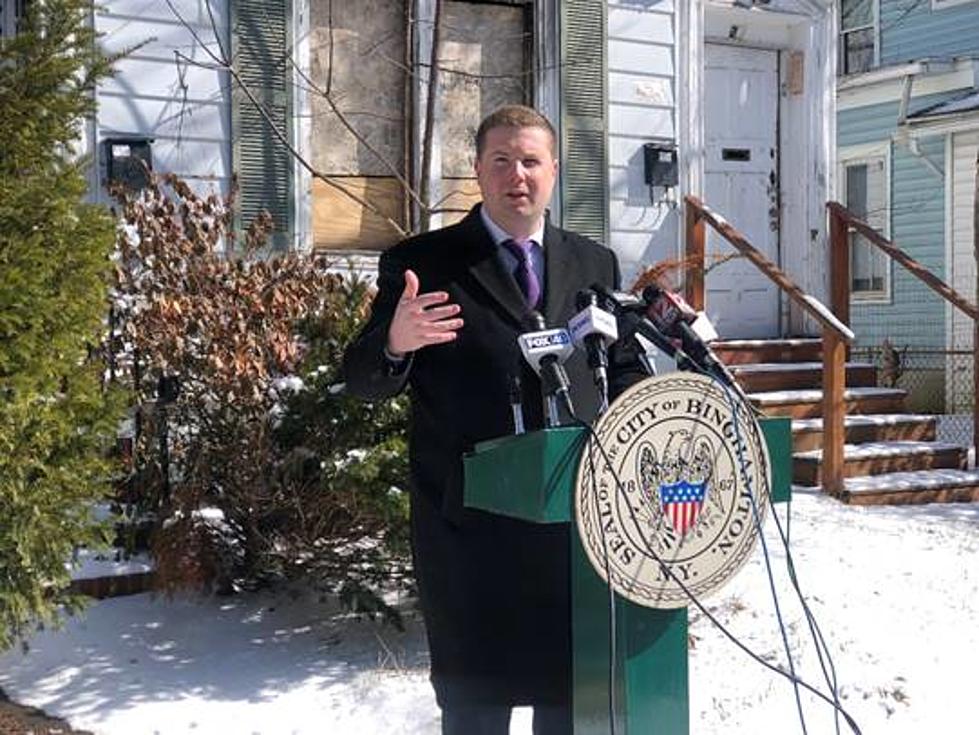 Binghamton Announces $197,000 for Local Nonprofits
Photo courtesy Binghamton Mayor's Office
City of Binghamton Mayor Jared Kraham announced nearly $197,000 in funding for local nonprofits through the Community Development Block Grant.
In a press release on Monday, Mayor Kraham announced the nearly $197,000 in funding for a number of local nonprofits. 14 local nonprofits will receive funding from the federal Community Development Block Grant.
Among those receiving the most funding are the Police Athletic League receiving $25,000 for Capital Upgrades to PAL Camp, Metro Interfaith receiving $20,000 for Housing Counseling and Referral Program, and Discovery Center, receiving $18,666 for Capital Upgrades to Story Garden Amphitheater.
Mayor Kraham stated "This funding is going directly to the local nonprofits that provide residents of every age with critical services, like afterschool programming, job readiness training and help for first-time homeowners. By supporting our community partners and the invaluable work they do on behalf of residents, the City is investing in the well-being of those who live and work here.
ACHIEVE, Action for Older Persons, American Civic Association, Binghamton Adult Education, Binghamton Housing Authority, Broome County Urban League, CARES, Mothers and Babies Perinatal Network, Tri-Cities Opera and VINES will also receive funding from the federal Community Development Block Grant.
Amelia LoDolce, Executive Director of VINES, stated "VINES is honored to receive CDBG funding this year through the City of Binghamton for our Grow Binghamton youth employment program, which hires 14- to 21-year-olds to help VINES grow food for the community while learning valuable job and life skills. CDBG funding has been essential for this program to operate since it was created in 2010."
Jessie Stone He, Executive Director of Action for Older Persons, stated "Funding from the City of Binghamton through the Community Development Block Grant provides vital support for Action for Older Persons. This year, thousands of area seniors will newly qualify for the Medicare Savings Program, which can save individuals approximately $7,000 a year in health insurance costs. The City of Binghamton's support will help fund outreach efforts to broaden awareness of the program and its benefits for residents of the City."
Describing Binghamton, New York in Your Words
We asked the Binghamton, New York community to describe our city in one word, and we got a wide range of answers back from the people.
25 Businesses That Could Fill that Space in Downtown Binghamton
Since I moved here, Court Street in downtown Binghamton has had a huge chunk of unused real estate. Here's 25 businesses that could fill the space.
More From WNBF News Radio 1290 AM & 92.1 FM