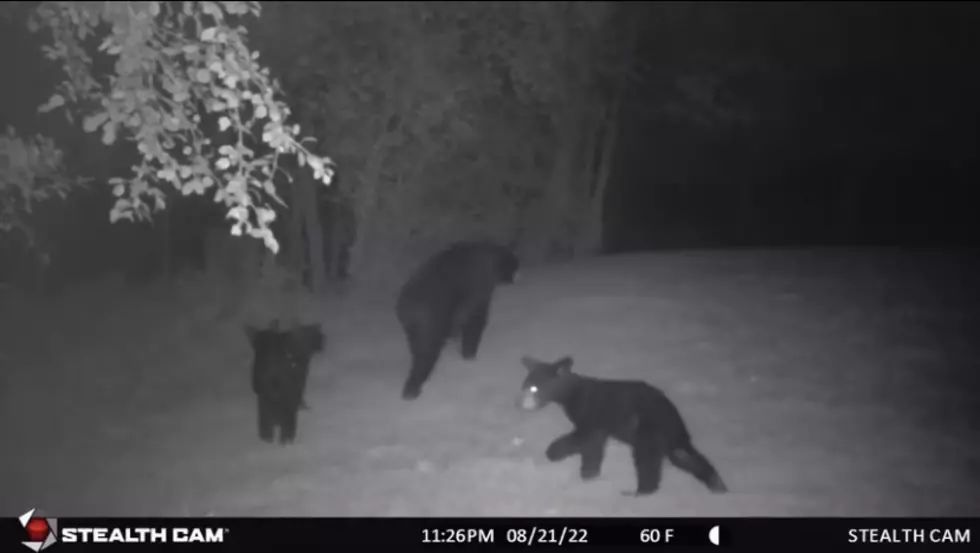 Bears are Running Wild in Broome County
Michelle Brearley/Nextdoor
As winter approaches, it seems bears in the Broome County area are getting a little more adventurous in residential areas during their search for food.
It's no secret that I'm terrified of bears. Growing up on Long Island, I never had to wonder how to survive if I came across a bear in my travels. And when I moved to Binghamton, I assumed that if I stayed far way from the woods as best as I could, I probably wouldn't run into any bears.
Well it looks like the bears aren't sticking to the woods as much as they did this summer.
As bears in Broome County are preparing to hibernate for the winter, local residents are seeing them out and about looking for food more often. As the temperature starts to drop, more people have seen bears rooting through their trash or looking for bird feeders around the Binghamton area. One resident even suffered some pool damage from a bear that may have decided to take a little moonlight swim.
Most of the residents reporting bear sightings aren't sustaining damages like that. Usually, the bears are just poking around the area looking for something to eat like this one in Apalachin Creek.
Another Apalachin resident claimed to have seen a mama bear and her three cubs going after his bird feeder and sending his dog into a frenzy. Maybe, it was the same bears that got picked up by a trail cam in Vestal.
Regardless of where you are in Broome County, it's probably about time you take some precautions to keep bears away from your property. That means taking in bird feeders and trash cans at night so the smell of food doesn't attract a hungry bear. And if you find yourself face to face with a bear, make sure to stay calm and don't run the opposite direction because it may chase you. Just make yourself as big as you can and make loud noises to try to scare it off. I may not be the leading expert on surviving a bear encounter myself, but the leading experts have told me that's the best way to make sure you don't end up as a winter time snack.
https://nextdoor.com/p/kF4_CwqmssD6?utm_source=share&extras=NzY4ODYwMjQ%3D
https://nextdoor.com/p/QH4bY8wqzwkT?utm_source=share&extras=NzY4ODYwMjQ%3D
https://nextdoor.com/p/3-NGfwtrN-WC?utm_source=share&extras=NzY4ODYwMjQ%3D
https://nextdoor.com/p/jDZC4-fYr_Wc?utm_source=share&extras=NzY4ODYwMjQ%3D
The 12 Best Broome County Hiking Trails
Take a Look at 2022's Luma Projection Arts Festival
More From WNBF News Radio 1290 AM & 92.1 FM