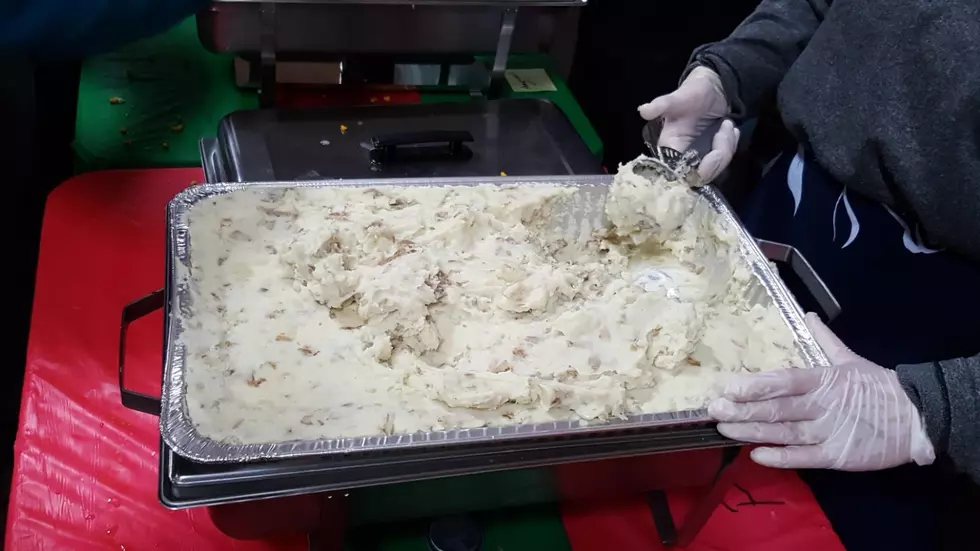 Bandera Family Dinner Brings Christmas Joy
WNBF News/Roger Neel Photo
The 30th annual Bandera Family Christmas Dinner brought joy and happiness to several thousand people on Christmas day.  Dinner locations were based at American Legion Post 80 in Binghamton, St. Ambrose School in Endicott and at American Legion Post 189 in Norwich. In addition volunteers provided meal delivery to hundreds of others who for whatever reasons could not come to one of the locations.
Enter your number to get our free mobile app
The meals featured turkey and stuffing, ham, mashed potatoes, vegetables and salad as well as a variety of desserts.  The meal was served with all the fixings to provide a wonderful addition to Christmas Day.  Not only was the food outstanding but the outpouring of love and fellowship was evident from the dozens of volunteers who gave up a large part of their Christmas with family to help others.  In many cases several family members volunteered together to assist in whatever manner needed. Meals are offered to anyone regardless of economic status or ability to pay.
Organizer Bill Bandera, who has continued to organize and oversee the Christmas dinner which was established by his parents, has seen the event grow from the Binghamton location only to Endicott and Norwich.  Speaking with News Radio 1290's Roger Neel at the Binghamton dinner Bandera says he has plans to continue the event into the future and says he has meetings with at least two other locations to expand the dinner next year.  He credits the volunteers and local businesses who help underwrite the dinner with making it such a wonderful success.
Hear more about this year's Bandera Family Christmas Dinner on Thursday morning at 7:25 and 8:25 AM when Bill Bandera talks with WNBF's Roger Neel about the the joy the event brings to so many people.
More From WNBF News Radio 1290 AM & 92.1 FM