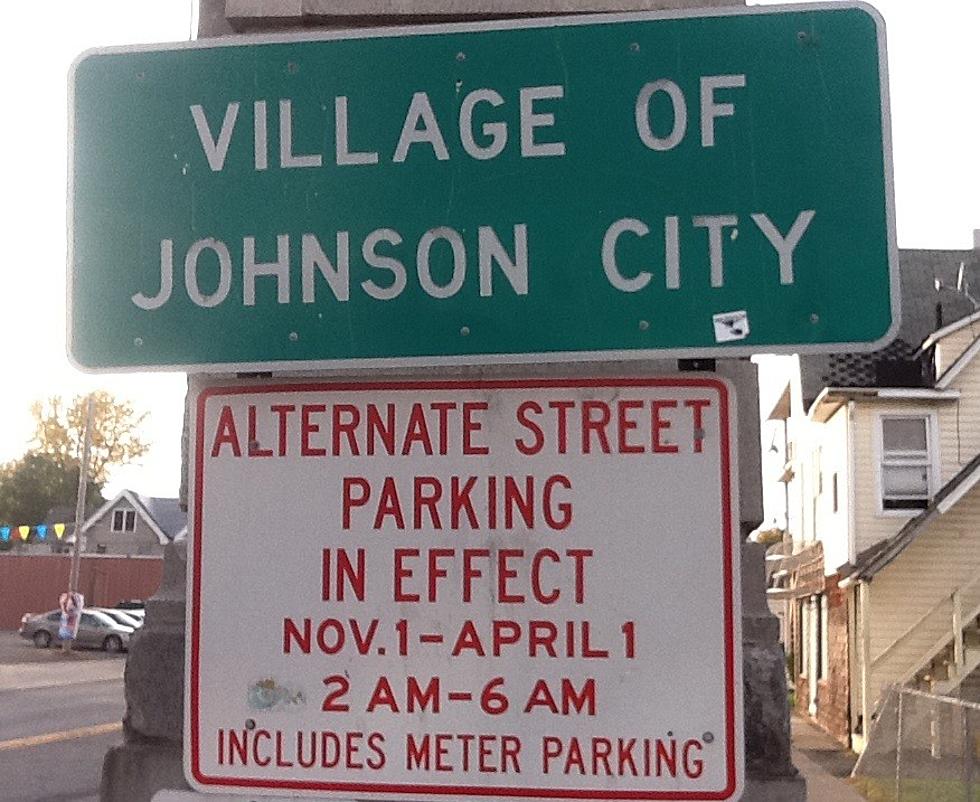 Winter Parking Rules Start in Binghamton, Johnson City, Endicott
Bob Joseph/WNBF News
Winter parking rules go into effect December 1 for Binghamton, Johnson City and Endicott, among other local municipalities.
In Binghamton and Johnson City, cars have to be parked on the odd-numbered side of the street on odd-numbered calendar days and moved at 5 p.m. to correspond with the next day's date.
Both municipalities issue warnings for a few days after the start of enforcement before putting real tickets on cars.
In Binghamton, alternate side parking includes all City streets, including those with parking on only one side.  The rules do not apply for kiosk parking and some streets are posted as exempt from alternate side parking rules.
The following areas are exempt from alternate side parking rules in the City of Binghamton:
ALL KIOSK PARKING
ALFRED STREET, between Grand and Lookout Streets
CLINTON STREET, between Glenwood Avenue and Jarvis Street
CONKLIN AVENUE, between South Washington Street and the State Street Bridge off-ramp
COURT STREET, between the Court Street Bridge and Fayette Street
CRANDALL STREET, between Clinton Street and dead-end.
DELAVAN AVENUE, between Iva Avenue and the dead-end to the northeast
FAYETTE STREET, between Court and Susquehanna Street
FLORENCE AVENUE, between Eaton Place and Leroy Street
FRONT STREET, between Riverside Drive and Leroy Street.
HARRISON STREET, between Matthews Street and West End Avenue
JUDSON AVENUE, between Lorraine and Glenwood Avenue
KING AVENUE, between St. John Avenue and Walnut Street
LOOKOUT STREET, between Telegraph and Alfred Streets
LOURDES ROAD, between Riverside Drive and the dead-end to the north
MINERVA AVENUE, between Grand Boulevard and Schubert Street
MITCHELL AVENUE, between Vestal Avenue and Morris Street
OAK STREET, between Gaines St. and Prospect Street
PARK AVENUE, between Vestal Avenue and Morris Street
PARK STREET, between Schubert and Harrison Streets
PROSPECT STREET, between Front Street and Glenwood Avenue
RONAN STREET, between Baxter and Prospect Streets (odd side only)
SEMINARY AVENUE, between Chestnut Street and Laurel Avenue
WEST STREET, between Clinton and Phelps Streets
Like Binghamton, Johnson City's winter parking rules are in effect for 24 hour periods with cars required to move to the proper side by 5 p.m. the previous day.
In Endicott, vehicles cannot be parked or stopped on any Village street and municipal parking lot between 1 a.m. and 6 a.m. unless otherwise posted. There are some locations in Endicott where parking is prohibited between 9 a.m. and 12 p.m. after a snow emergency where there is a snowfall of three inches or more.
Anyone with questions can contact the police traffic division or in Endicott, check the village website www.endicottny.com and refer to the codebook link.
More From WNBF News Radio 1290 AM & 92.1 FM