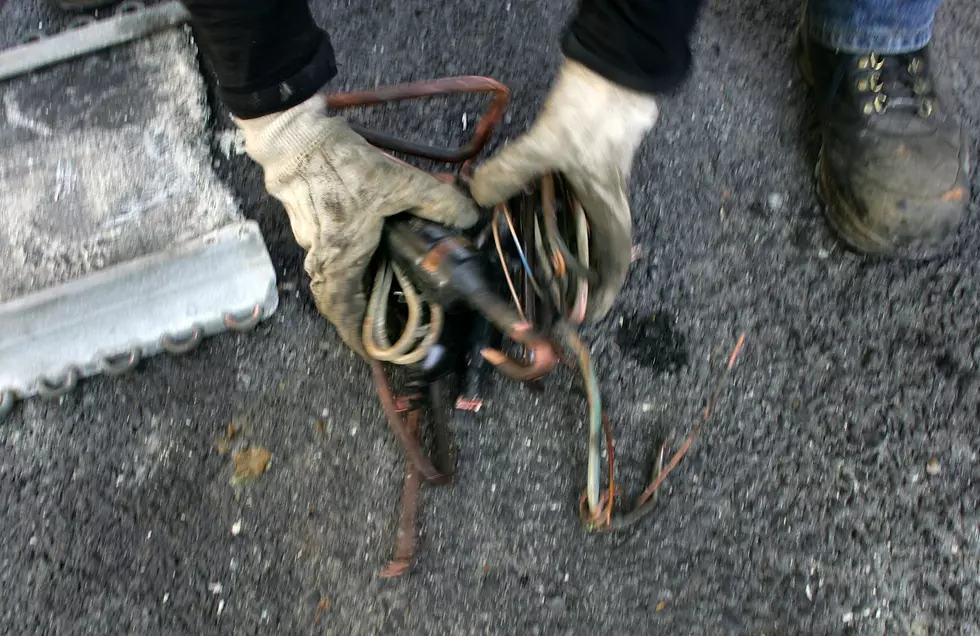 One Charged, One at Large in Cortlandville Copper Theft
Spencer Platt/Getty Images
A Cortlandville man is facing a felony Grand Larceny charge while another remains at large following the theft of copper wire from an asphalt and paving business on Route 11.
Cortland County Sheriff's officials say 43-year-old Joshua Morris was arrested last Thursday, August 11 after authorities were called to Suit-Kote Crushed Stone for a report of two people stealing copper wire at the business.
Authorities say the caller informed them that two men were running away through a field.  The news release from the Sheriff's office does not provide a time that the incident was reported.
Cortland County Sheriff's Deputies with the help of the New York State Police were able to find Morris and place him in custody.
A second man fled the scene, has not been identified and has not been located.
Morris was taken to the Cortland County Sheriff's office to be processed on a charge of Grand Larceny (in the Third Degree, which is a Class D Felony).  He was ordered held without bail in the Cortland County Jail.
Authorities say prior to the Thursday arrest, Morris had two unrelated arrests earlier this year in cases that are still open.
The authorities did not provide information about the nature of those other pending cases.
Meanwhile, Sheriff's officials are still looking for the second suspect and more information concerning the reported copper wire theft.
Anyone with information is asked to call Cortland County Sheriff's Investigators, Sergeant Timothy Jones at 607-758-5537.
Cortland County Sheriff's officials say they were assisted by New York State Police, the New York State Forrest Rangers and the City of Cortland Police K9 Unit.
Forgotten First Albums: Rock's 61 Most Overshadowed Debuts
Yelp's Best-Rated Ice Cream Shops In Your County
More From WNBF News Radio 1290 AM & 92.1 FM