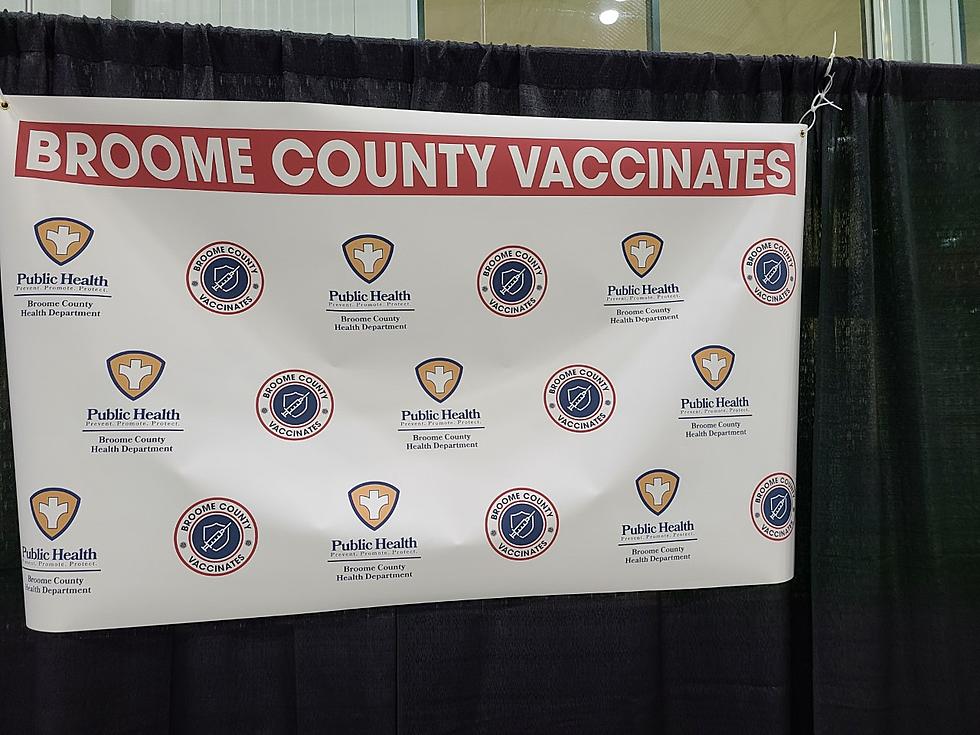 NY Governor Hochul Wants Broome COVID Vaccination Numbers Up
Kathy Whyte/ WNBF News
New York Governor Kathy Hochul is challenging Broome County to bring its vaccination numbers up.
During a stop in Johnson City to cut the ribbon on Binghamton University's new Decker College of Nursing, the Democrat pointed to Broome's vaccination rate at 59% of residents with their completed vaccine schedule and 6% of the population with at least one dose as lagging behind the statewide numbers. Across New York 77% of adults are vaccinated and 87% at least partially covered with one dose.
A closed Johnson & Johnson vaccination clinic was scheduled in Endicott October 26 for employees of BAE Systems with the next open clinic in Broome County planned for October 27 at the Mirabito on South Washington Street in Binghamton from 9 a.m. to noon.
The Chenango County Health Department scheduled a Pfizer COVID-19 vaccine first dose and booster clinic October 26 from 3 to 5 p.m. at the South Plaza in Norwich. A Modernia Booster clinic will be held for those eligible October 27 from 9 to 11 a.m. and 1 to 5 p.m. at the same location.
In Northeast Pennsylvania the COVID numbers continue to soar with Susquehanna, Wayne and Bradford Counties all reporting over 100 new cases over the past week.  Bradford's number jumped by 153, Susquehanna had 108 new cases and Wayne County posted 122 new cases of the coronavirus.  Wayne lost two more residents to the pandemic while Bradford County lost seven more lives to COVID-19 over the week.
Answers to 25 common COVID-19 vaccine questions
Vaccinations for COVID-19 began being administered in the U.S. on Dec. 14, 2020. The quick rollout came a little more than a year after the virus was first identified in November 2019. The impressive speed with which vaccines were developed has also left a lot of people with a lot of questions. The questions range from the practical—how will I get vaccinated?—to the scientific—how do these vaccines even work?
Keep reading to discover answers to 25 common COVID-19 vaccine questions.
FOOD-A-BAGO 2020: Take A Look At How The Community is Helping Broome County CHOW!
More From WNBF News Radio 1290 AM & 92.1 FM