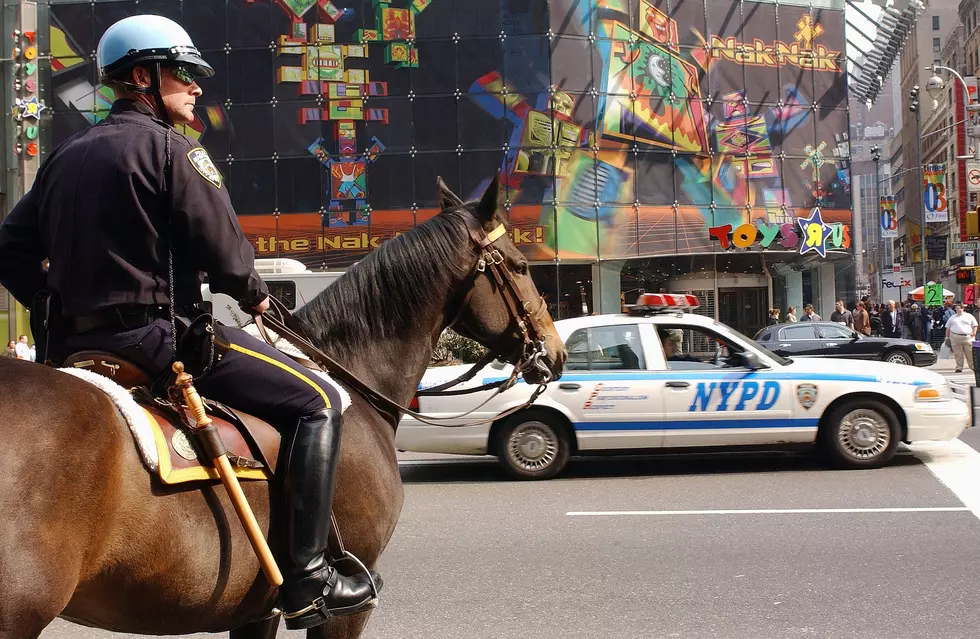 New York State Police Save Horses from Slaughter, Train Them to be Police Horses
Mark Mainz/Getty Images
If you've ever wondered where the New York State Police get their horses from, the answer is a lot more wholesome than you were probably imagining.
According to a report by the News 12 New Jersey staff, many of the horses used by the New York State Police were literally saved from the slaughterhouse just in time.
It's pretty well known what happens to horses when they're injured. If they're unable to perform the tasks that they're required for, like racing or working, the owners don't have much use for them and will sell the horse. Sometimes that means the horse becomes a very large pet, other times it means they "get taken to a farm upstate."
But according to the report, many of the horses that are about to meet an untimely end are saved by the New York State Police, rehabilitated, and trained to be police horses that get to interact with the community on a daily basis.
New York State Investigator Mary Elana Moran, personally responsible for rescuing many of these horses, told News 12 "I have been approached by thousands of people who would've never come up to me other than the fact that I'm sitting on this beautiful horse, right? So then, I just gained a new friend who knows that I care about their quality of life and that I'm a human being up here in this uniform and it humanizes law enforcement. So the power of the horse really is the ultimate community outreach tool."
As far as actual police work, horses really don't do much. It's not often that you see a high speed chase in the street of New York City with a police officer on a horse galloping after a runaway car. It's a fantastic visual, but the main purpose of the horses is to build community relations. So instead of heading off to that farm upstate, the horses get saved by the New York State Police and get to spend the rest of their days walking among the community and leaving presents behind for anyone that doesn't watch where they're walking.
Take a Look at 2022's Luma Projection Arts Festival
A Look Around Binghamton's 2022 Porchfest
A Look Around Binghamton's 2022 Porchfest
More From WNBF News Radio 1290 AM & 92.1 FM