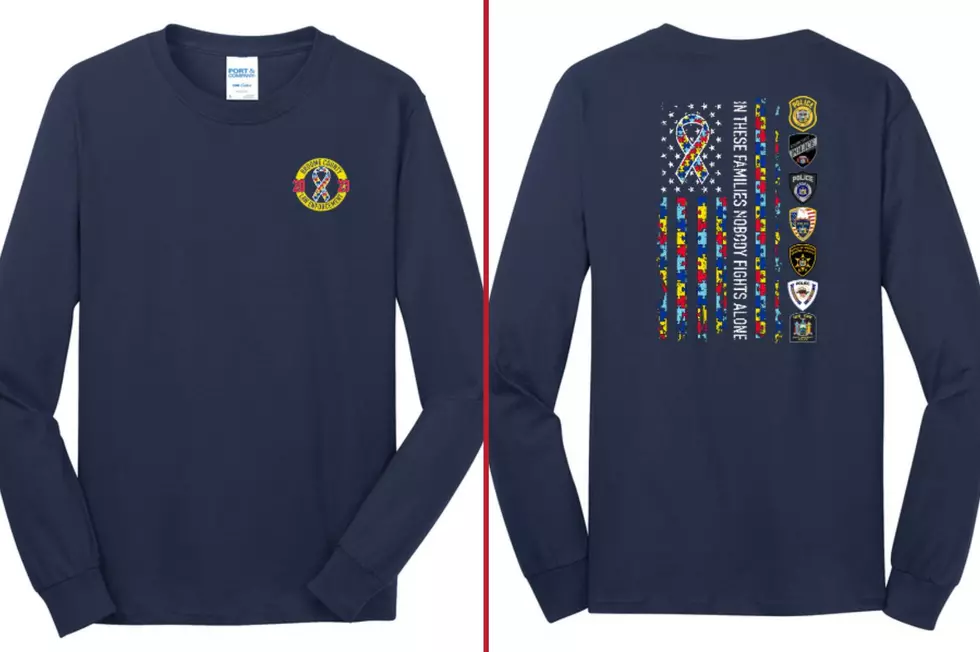 Broome County Law Enforcement Launch Autism Awareness T-Shirt Fundraiser
via Johnson City Police Association
According to the Centers for Disease Control and Prevention (CDC), there are an estimated 5,437,988 adults living with autism spectrum disorder in the United States.  
The CDC says that there are about 342,280 adults in New York state who are living with autism spectrum disorder and the New York Council on Children and Families estimates that there are 28,000 children are living with autism in the state.  
To show support for New Yorkers living with autism, the Johnson City Police Association has launched its 6th annual Autism Awareness T-Shirt fundraiser ahead of April which is Autism Awareness Month. 
This year, the Johnson City Police Association has teamed with the Broome County Sheriff's Office, Binghamton, Vestal, Endicott, Port Dickinson Police, and Binghamton University Police to show an even greater support and to raise funds which benefit Broome County residents.  
All proceeds of t-shirt sales are given to Alive With Autism, which is a Broome County not-for-profit which provides resources and support for members of our community who have autism as well as their families.  
The Autism Awareness T-Shirt fundraiser is an online event in which anyone may purchase a t-shirt through March 5.  This year, there are a variety of options from which to pick including hoodies, knit hats, short and long sleeve t-shirts and youth apparel. Prices range from $35.00 for a hoodie to $20.00 for a t-shirt.  
Members of the Broome County Law Enforcement Community stand united in recognizing that there is a need to "raise awareness to support, advocate, educate, accept, understand, & to love those diagnosed with autism" and remains committed to doing their part to educate the Broome County community.  
View a list of the items available for purchase on the Autism Awareness T-Shirt fundraiser website. 
Check Out 10 Places To Satisfy Your Mac and Cheese Craving in Broome County
Craving some delicious macaroni and cheese? Here are ten places in Broome County where you can satisfy that craving.
The 12 Best Broome County Hiking Trails
More From WNBF News Radio 1290 AM & 92.1 FM