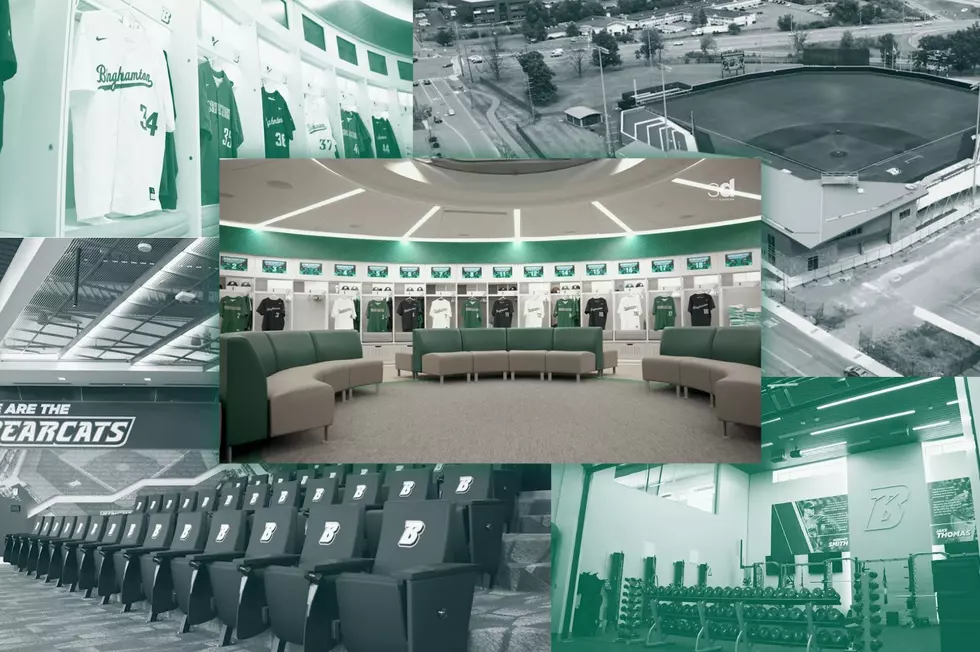 🎥 VIDEO: Take A Tour Inside Binghamton University's $60 Million Baseball Paradise
Sports Dissected by COISKI via YouTube, Canva
Earlier this year, we gave you a look at the new 60 million-dollar Binghamton University Baseball complex, through the lens and drone views courtesy of Frank Palmisano, who by the way, has produced many spectacular views of the Southern Tier from the skies above.
The stadium was a $60 million dollar gift to Binghamton University from an anonymous alumni family to build an 84,000-square-foot baseball complex, and wow, that donation resulted in a world-class complex. You probably have seen what the outside looks like. It's surely one of the nicest college baseball stadiums I've ever seen.
But there's a lot more to the complex than just the outside that we drive by on the Binghamton University campus, next to the Vestal Parkway. Recently, the Binghamton Bearcats Facebook revealed that the new baseball complex was featured by a national facility agency.
That national facility agency is 'Sports Dissected', and on their YouTube channel, featuring not only the outside but what most of us have not seen, the facilities on the inside. And after watching the video, I am really impressed. More than impressed, actually. This Binghamton University Baseball complex has got to be one of the best in the country in my opinion.
The look on the inside (and outside) begins at 1:39 into the 15-minute tour, but it's time worth taking to watch and see the inside of this amazing facility, as shown to Leland Bruce from Sports Dissected by Binghamton Bearcats head coach Tim Sinicki.
You get to see the Athletic Training Roon, Weight Room, Indoor Cages, Locker Room, Players Louge, Nutrition Area, Professional Wall, Indoor Study Area, Meeting Room, VIP Lounge, Luxury Suites, and of course the outside area of the stadium complex. The video is below. Be prepared to be awed.
[via Binghamton Bearcats, Sports Dissected]
LOOK INSIDE: Binghamton University's $60 Million Baseball Stadium Complex
Binghamton University received a $60 million anonymous gift to create a new Baseball Stadium Complex and we were able to get a peek at the almost completed complex.
Take A Look At Binghamton University's Mascot Timeline
You know the Binghamton Bearcats, but they've only been the Bearcats for a relatively short period of the university's history. Take a look at the mascots the Southern Tier forgot about.
EYES IN THE SKY: 10 Greater Binghamton School Stadiums From Above
More From WNBF News Radio 1290 AM & 92.1 FM