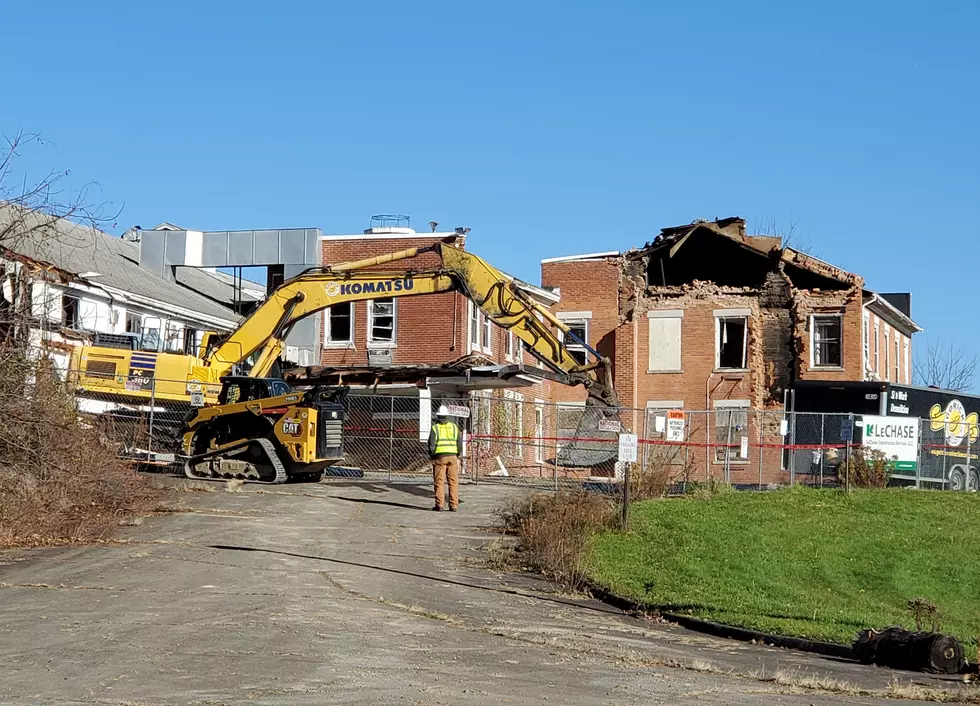 IBM Country Club Redevelopment Project Start Delayed
Photo: Bob Joseph/WNBF News (file)
Construction of a 75-unit apartment complex on the site of the former IBM Country Club near Johnson City won't get underway this year.
Conifer Realty and LeChase Construction were selected in 2021 to redevelop the property that had been home to the iconic country club facilities for several decades.
When demolition of the abandoned buildings was announced last October, Broome County officials said they expected groundbreaking for the apartment project would start in the spring.
But it now appears the planned work is running about a year behind the original schedule.
Leadership Alliance CEO Stacey Duncan said the developers are expected to submit an application for a state low income housing tax credit by the end of this month. She said that would provide a "significant amount of funding for the project."
In an email to WNBF News, Duncan wrote: "We hope that we could see real movement around late spring /summer2024." She stressed that is her projection and not that of the developers.
Duncan said she believes the total project costs are "are upwards of $25 million."
The historic "1951" cornerstone from one of the old IBM Country Club buildings has been salvaged. County officials had planned to open the container last spring at the  project groundbreaking.
Many people have been curious about what may be inside the cornerstone. Duncan indicated consideration now is being given to opening up the cornerstone before the groundbreaking ceremony.
VIDEO: WNBF reporter Bob Joseph returned to the IBM Country Club site to share a few memories and look to the future.
Harsh Reality: A Look at the Old IBM Country Club
Enter your number to get our free mobile app
Contact WNBF News reporter Bob Joseph: bob@wnbf.com or (607) 545-2250. For breaking news and updates on developing stories, follow @BinghamtonNow on Twitter.
LOOK: Best Counties to Raise a Family in New York
Stacker
compiled a list of the best counties to raise a family in New York.
LOOK: Do you know these 50 famous acronyms?
This list from
Stacker
features a collection of the most common acronyms and their meanings. Popular abbreviations include establishments like ACLU, YMCA, ad the AARP.
LOOK: 20 photos of shipwrecks from WWI and WWII
Stacker
compiled research from news sites, wreckage databases, and local diving centers to provide context for a series of striking images of WWI and WWII shipwrecks.
More From WNBF News Radio 1290 AM & 92.1 FM