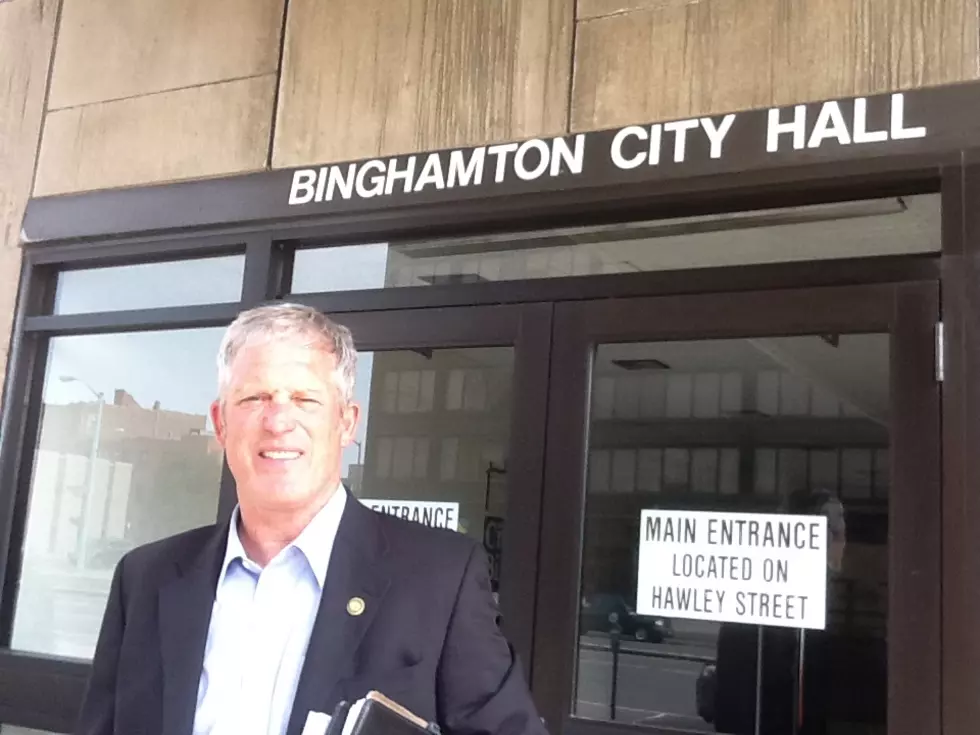 50 Years Ago: Future Mayor Ryan Arrested at Binghamton Protest
Photo: Bob Joseph/WNBF News (file)
It's been a half century since Matthew Ryan was arrested outside the Binghamton Federal Building with dozens of other people demonstrating against the Vietnam War.
The future mayor of Binghamton Ryan was 20 years old when he and about 50 other people were charged with disorderly conduct on May 9, 1972.
In a front page story in The Evening Press that day, Tom Cawley reported the group tried to keep people from entering the downtown office building on Henry Street "to protest the blockade of North Vietnamese ports announced by President Nixon" the previous night.
Ryan and the others who were arrested were transported by "paddy wagon" to police headquarters on Water Street.
Speaking on WNBF Radio's Binghamton Now program Tuesday, Ryan said his activism started in his senior year at Catholic Central High School. He said his older brother, Jerome, was a draft counselor who "had a big impact on me."
Ryan said he began paying attention to some of the Vietnam War opponents who spoke at what was then Harpur College (now Binghamton University). He said he continued to speak out against the war for years.
Ryan was elected to the first of two terms as Binghamton mayor on November 8, 2005 - more than 33 years after he was arrested outside the federal building two blocks from City Hall.
Ryan received national attention when he installed a "Cost of War Clock" outside City Hall in 2010. The purpose of the electronic sign was to keep track of the local tax money that had been used to support wars in Iraq and Afghanistan.
Enter your number to get our free mobile app
Contact WNBF News reporter Bob Joseph: bob@wnbf.com. For breaking news and updates on developing stories, follow @BinghamtonNow on Twitter.
LOOK: What 25 Historic Battlefields Look Like Today
The following is an examination of what became of the sites where America waged its most important and often most brutal campaigns of war. Using a variety of sources,
Stacker
selected 25 historically significant battlefields in American history. For each one, Stacker investigated what happened there when the battles raged as well as what became of those hallowed grounds when the fighting stopped.
These are the battlefields that defined the United States military's journey from upstart Colonial rebels to an invincible global war machine.
LOOK: What major laws were passed the year you were born?
Data for this list was acquired from trusted online sources and news outlets. Read on to discover what major law was passed the year you were born and learn its name, the vote count (where relevant), and its impact and significance.
RANKED: Here Are the 63 Smartest Dog Breeds
Does your loyal pup's breed make the list? Read on to see if you'll be bragging to the neighbors about your dog's intellectual prowess the next time you take your fur baby out for a walk. Don't worry: Even if your dog's breed doesn't land on the list, that doesn't mean he's not a good boy--some traits simply can't be measured.
LOOK: Here are the best lake towns to live in
Many of the included towns jump out at the casual observer as popular summer-rental spots--the Ozarks' Branson, Missouri, or Arizona's Lake Havasu--it might surprise you to dive deeper into some quality-of-life offerings beyond the beach and vacation homes. You'll likely pick up some knowledge from a wide range of Americana: one of the last remaining 1950s-style drive-ins in the Midwest; a Florida town that started as a Civil War veteran retirement area; an island boasting some of the country's top public schools and wealth-earners right in the middle of a lake between Seattle and Bellevue; and even a California town containing much more than Johnny Cash's prison blues.
More From WNBF News Radio 1290 AM & 92.1 FM