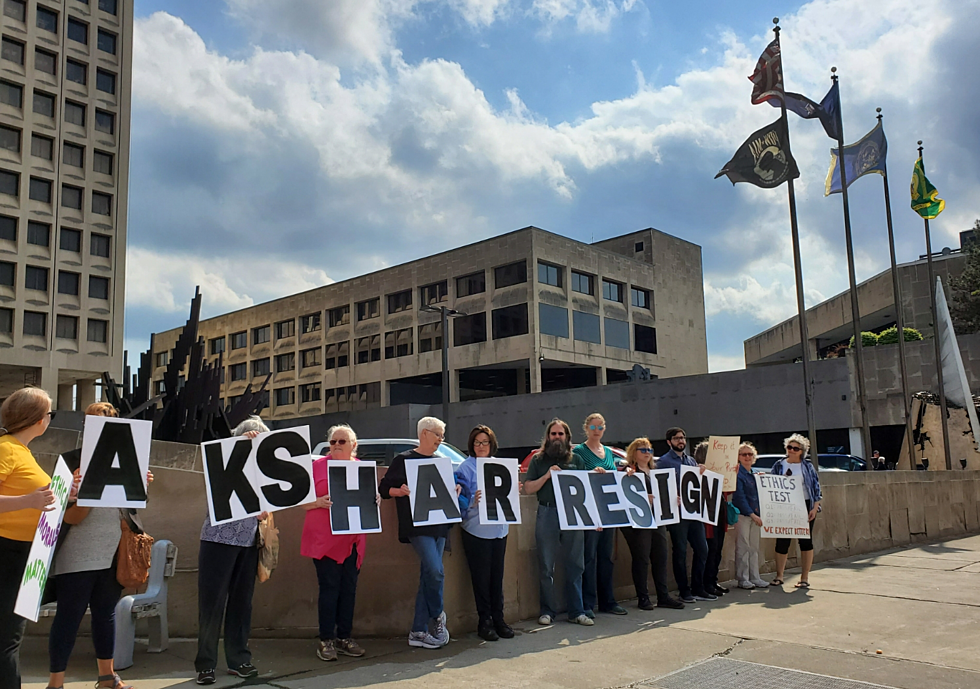 Downtown Binghamton Protest Held Seeking Akshar's Resignation
Photo: Bob Joseph/WNBF News
About 20 people gathered in front of the Binghamton State Office Building calling on Senator Fred Akshar to resign.
The event late Friday afternoon was organized by several organizations, including Indivisible Binghamton and College Democrats of New York.
The protest came nearly two weeks after Broome County Democratic committee chairman Timothy Grippen issued a statement calling for the resignation of Akshar, an Endwell Republican.
Akshar in April acknowledged having a "brief, consensual relationship" with Mirella Masciarelli, whose son was a murder victim. Akshar investigated the killing when he was a captain with the Broome County Sheriff's Office.
Masciarelli has asserted she was intoxicated at the time and not capable of giving consent.
Those who participated in the protest on Hawley Street held signs calling on Akshar to resign.
Lori Wahila, a leader of Indivisible Binghamton, expressed concerns because Akshar has been hired as a part time police officer in the village of Port Dickinson. She noted he also has started a private investigation business.
Elected officials in Broome County have not joined Grippen's call for Akshar's resignation.
In separate interviews, Assemblywoman Donna Lupardo and Broome County Executive Jason Garnar, both Democrats, have declined to criticize Akshar, Binghamton Mayor Richard David, a Republican, also did not criticize the senator's behavior or say that he should consider quitting.
According to WICZ FOX 40, Akshar's office issued a statement regarding the Binghamton protest: "We don't comment on political stunts."
Akshar posted a video statement on social media contending he has been the target of a "politically-motivated smear attempt."
For breaking news and updates on developing stories, follow @BinghamtonNow on Twitter.
More From WNBF News Radio 1290 AM & 92.1 FM