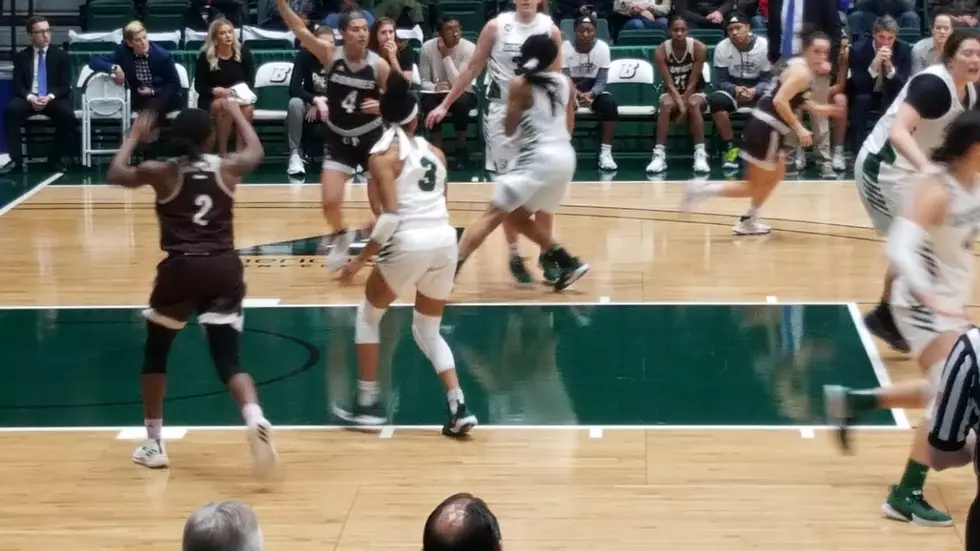 BU Women Victorious Against Vermont
WNBF News/Roger Neel Photo
It was a tough loss in Long Island for the women's basketball team against Stony Brook on February 12. BU returned home on February 15, looking to rebound as they hosted the Vermont Catamounts.
Vermont made it close at the end of the first but hit a dry spell in the second quarter. Delaney Richason led her team with six points. Emma Utterback and Josie Larkins each had five as the Catamounts put up 21 for the half.
Binghamton grabbed the lead early in the first and helped stretch that lead with a 15-0 run in the second. Denai Bowman scored eight with Kai Moon, Carly Boland, and Kaylee Wasco each tallying seven as the Bearcats led 35-21 going into the break.
Coming out of halftime, Vermont tried to rally and make the game competitive, but they weren't able to close the gap. Delaney Richason finished with 12 while Sarah Wells ended with 10. Hanna Crymble and Emma Utterback each chipped in nine as the Catamounts recorded 53 points for the game.
Binghamton continued to dominate in the second half, extending their lead far enough away that it couldn't be touched. Kai Moon racked up 21 to lead all scorers. Carly Boland chalked up 12 with Denai Bowman and Olivia Ramil adding 10 apiece as the Bearcats get the much-needed victory by a final score of 76-53.
As it stands, Binghamton currently sits in fourth place in the America East Conference, giving them the opportunity to host a playoff game in the Event Center. The women will play on Wednesday, February 19 in Massachusetts as they'll look to continue their win streak against UMass Lowell.
More From WNBF News Radio 1290 AM & 92.1 FM