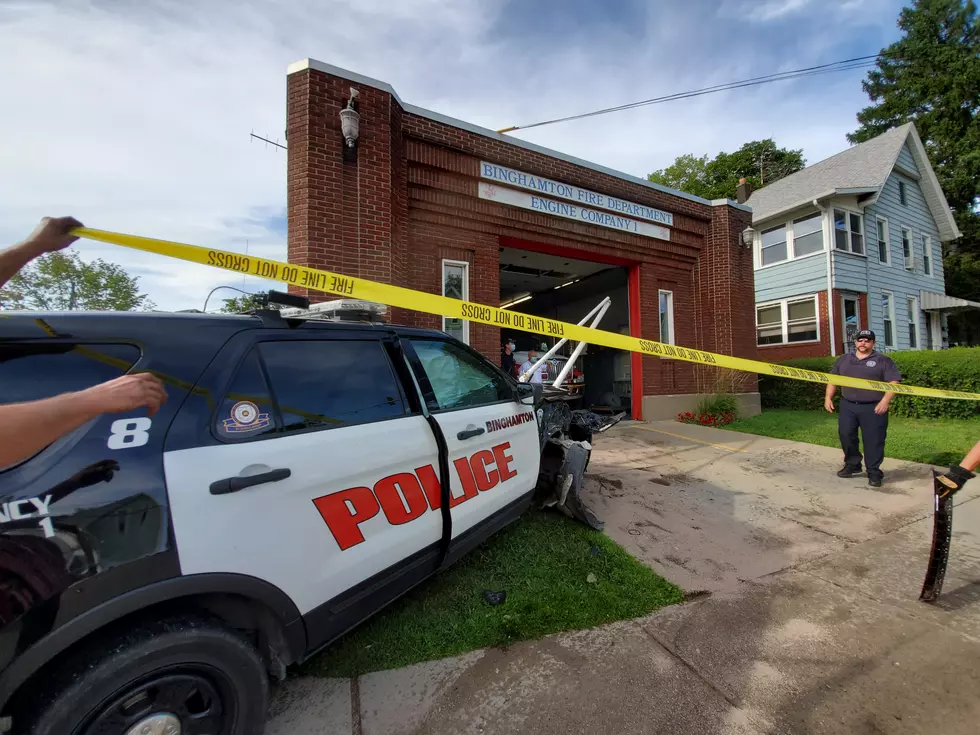 Binghamton Patrol Vehicle Hits Car, Strikes Pole at Fire Station
Photo: Bob Joseph/WNBF News
Witnesses say a fast-moving police vehicle smashed into a car before knocking down at flag pole and almost striking a Binghamton fire station.
The crash happened around 4:45 p.m. Wednesday at Conklin Avenue and Broome Street on the city's South Side.
Although the air bags in the front compartment of the patrol car were deployed, the police officer who was driving the Ford sport utility vehicle apparently escaped injury.
The Binghamton woman who was driving the 2009 Pontiac G6 that was struck by the police unit told WNBF News at the scene that she was "a bit shaken up" but unhurt.
The woman said she was turning onto Broome Street from Conklin Avenue when the police SUV smashed into her car. She said: "He came out of nowhere."
The patrol car hit the flag pole a near the front door of the fire station.
A witness said he saw the police SUV swerving "in and out of traffic" at a high speed just before the collision occurred. He said the vehicle's emergency lights were on but he did not hear the siren. He said he heard a couple of blasts from the police car's horn prior to the crash.
The witness said he checked on the police officer who told him he was OK.
Police at the scene did not comment on the crash. An officer at police headquarters Wednesday evening said the incident was "under investigation."
Enter your number to get our free mobile app
For breaking news and updates on developing stories, follow @BinghamtonNow on Twitter.
KEEP READING: What to do after a tornado strikes
More From WNBF News Radio 1290 AM & 92.1 FM