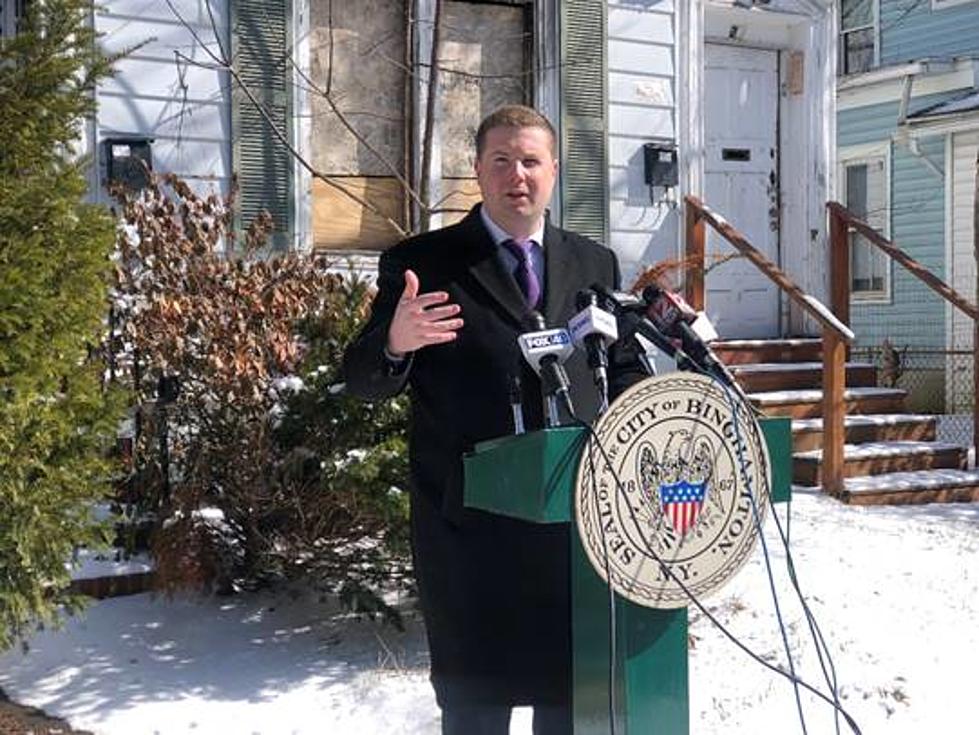 Binghamton Mayor Outlines Code Enforcement Initiatives
Photo courtesy Binghamton Mayor's Office
Binghamton Mayor Jared Kraham is outlining his plans for getting a handle on slum lords and code violators.
The Mayor says he wants to add a new prosecutor position just to focus on going after code and quality of life case in City Court.  Also, as part of his initiative to crackdown on run-down and dangerous parcels that drag down property values in neighborhoods, the Republican says he plans to hire a new Code and Building Inspector, amend the City Code Ordinances to shorten the height of grass and weeds that count as a violation and create a subdivision in the Parks Department to handle property maintenance complaints.
As part of the proposal to add an attorney position to concentrate on repeat code offenders, the Mayor says the attorney would also lead a new task force to investigate unsafe housing conditions and persistent blight.
As complaints about code violations grow, Mayor Kraham says there is a need to add on to the current seven code inspectors employed by the city while adding two laborer positions to the Parks Department Subdivision to handle maintenance complaints including snow removal and mowing. That would allow for more rapid response and billing of non-compliant property owners.
Kraham estimates it will cost $198,344 dollars to implement the initiatives with the money coming from the American Rescue Plan.
The package of proposals is to be considered at City Council's work session on Monday, March 7.
VIRTUAL TOUR: Look Inside Downtown Binghamton's Secret Mansion
"
"
LOOK: Here are the pets banned in each state
Because the regulation of exotic animals is left to states, some organizations, including The Humane Society of the United States, advocate for federal, standardized legislation that would ban owning large cats, bears, primates, and large poisonous snakes as pets.
Read on to see which pets are banned in your home state, as well as across the nation.
More From WNBF News Radio 1290 AM & 92.1 FM