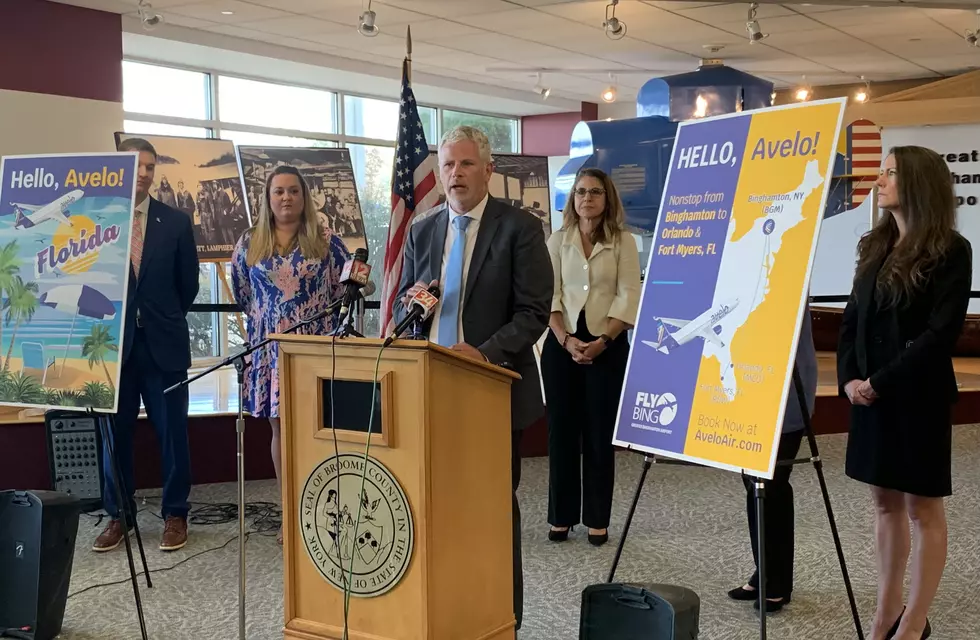 Binghamton Airport Announces Arrival of New Airline Service
James Kelly/WNBF
Broome County has announced a new airline will be offering budget friendly direct flights to Florida from Binghamton.
In a press conference at the Greater Binghamton Airport on Wednesday, Broome County Executive Jason Garnar announced that Avelo Airlines will begin serving Binghamton this fall with exclusive nonstop service to Orlando International Airport and Fort Myers' Southwest Florida International Airport.
"Bringing new passenger service to BGM has been a goal of my administration from day one," said Broome County Executive Jason Garnar. "With low fares, convenience, and destinations our residents have wanted for a long time, it's a great time to Fly BGM."
The new flights will operate on Wednesdays and Saturdays starting on November 16. Flights will depart Binghamton for Fort Myers at 12:30 pm and from Fort Myers to Binghamton at 9:00 am. Flights will depart Binghamton for Orlando at 8:55 pm and from Orlando to Binghamton at 5:30 pm. The new routes will operate on Boeing Next-Generation 737 aircraft and flights will start at $79.
"Service to Florida is something our community has requested for over 20 years," said Greater Binghamton Airport's Commissioner of Aviation Mark Heefner. "Our partnership with Avelo not only addresses that need by lays the foundation for successful service for years to come. A lot of hard work went into this announcement, and we are humbled and grateful for Avelo's faith in our community. We are excited for the opportunity to fill airplanes year-round to Florida with Avelo."
Avelo Airlines has bases in Los Angeles, Southern Connecticut, and Orlando, and with the addition of the Greater Binghamton Airport now serves 31 destinations in the United States.
"We're excited to add Binghamton as our first New York destination to Avelo's U.S. network," said Avelo Airlines Chairman and CEO Andrew Levy. "Traveling to the sunshine state is now more affordable and easier than ever. Southern Tier residents can now choose from two sun-soaked nonstop destinations, Orlando and Florida's majestic Gulf Coast."
A Look Around Binghamton's 2022 Porchfest
A Look Around Binghamton's 2022 Porchfest
FROM THE SKIES: 24 Southern Tier Golf Courses From A Bird's Eye View
Check out the gold courses that participate in our clubhouse card from a satellite view. Some of them may be bigger than you think.
More From WNBF News Radio 1290 AM & 92.1 FM