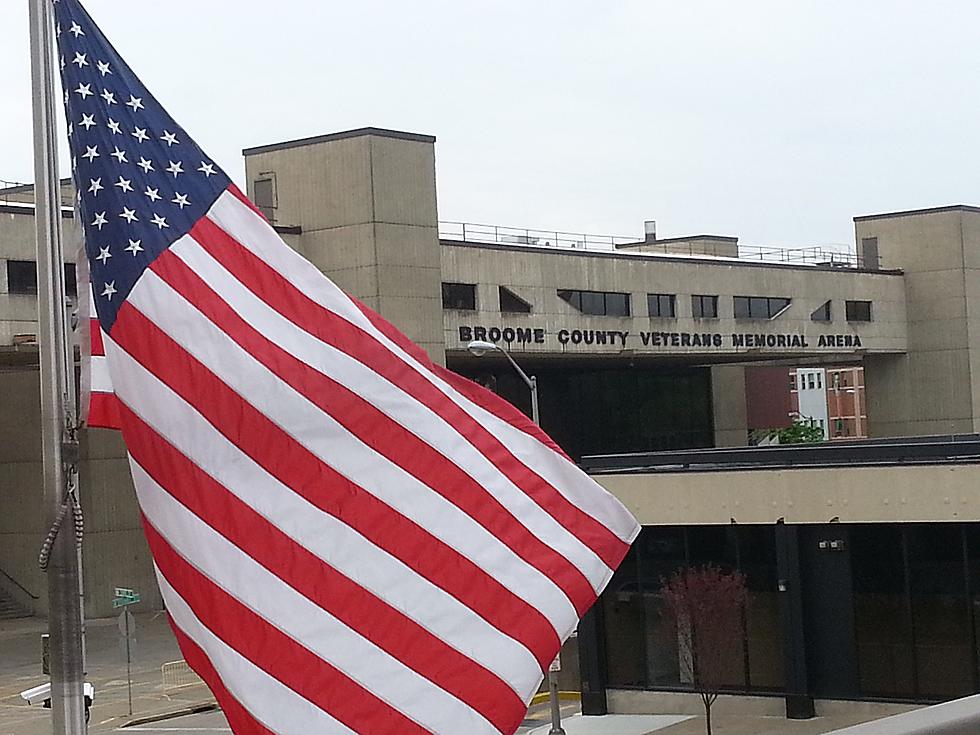 50 Years Ago: "Little Known" First Rock Performer at Broome Arena
Photo: Bob Joseph/WNBF News (file)
It has been a half century since several thousand people filled the Broome County Veterans Memorial Arena in downtown Binghamton for the venue's first rock concert.
Most of those who attended the event on the evening of June 13, 1973 were there to see and hear Chicago perform. The group had already released several popular albums by then and also scored success with many "Top 10" hits on the radio.
It's fairly certain few of the estimated 6,800 people who were in the Arena that night had heard of the first performer: Bruce Springsteen.
The 23-year-old Springsteen's scheduled appearance had been mentioned in a newspaper story a few days before the concert but his name didn't appear in the ads for the event.
As reviewer Dave Bourdon noted the following day in The Evening Press, concertgoers were surprised that the music started on schedule at 8 p.m.
Bourdon wrote: "The concert began on the right note as much-heralded but little-known Bruce Springsteen ... gave the audience a loud jazz-rock sendoff."
Springsteen started the 45-minute set with "Spirit in the Night," which had been released as a single a few weeks earlier.
Bourdon observed: "Springsteen and company received a good hand, but it was obviously Chicago the crowd wanted."
Tickets for the Arena's inaugural rock concert were priced at $5.50, $6.50 and $7.50. The newspaper story noted there were "more than a few grumbles" about the top ticket price.
Bruce Springsteen may have been a relatively unknown artist when he performed in Binghamton 50 years ago. But that changed with the released of his single "Born to Run" in August 1975.
LISTEN: A recording of Bruce Springsteen performing at the Broome County Veterans Memorial Arena on June 13, 1973.
Enter your number to get our free mobile app
Contact WNBF News reporter Bob Joseph: bob@wnbf.com or (607) 545-2250. For breaking news and updates on developing stories, follow @BinghamtonNow on Twitter.
LOOK: 50 songs you won't believe are turning 50 this year
The 40 Best Cover Songs by Rock Bands
LOOK: Popular fashion trends from the year you were born
Leg warmers, pillbox hats, and overalls are a few of the most memorable fashion trends over the last 100 years. Take a trip down memory lane and explore these trends.
More From WNBF News Radio 1290 AM & 92.1 FM