Vestal Man Charged With DWI After Crash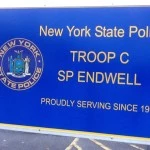 State Police at Endwell say troopers charged a man with driving while intoxicated following a crash in the town of Dickinson.
Authorities say 51-year-old Robert Mock III of Vestal was arrested Saturday after a one-car crash.
Investigators say the incident happened on Route 17 in the town of Dickinson.
Mock was ordered to appear in Dickinson town court on February 26.