Summer Vegetable Stew Recipe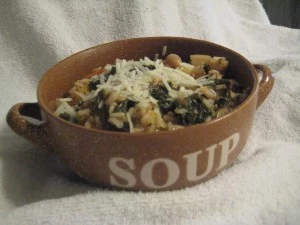 Foodie Friday celebrates the fall harvest with a fantastic stew that uses all the squash, tomatoes and other goodies bursting from the garden. Time to use up the bounty before it goes bad with an easy dish that can be frozen for use through the winter. And, it's healthy, packed full of vitamins and no fat!
Summer Vegetable Stew (prep. time: about a half hour for cutting up the vegetables. 4 hours in the slow cooker)
1 red or yellow onion
1 can diced tomatoes plus any fresh ones you want to use before they go bad  (Only slightly drain the canned tomatoes.)
1 can Great Northern or cannellini beans
Any summer garden vegetables you want, diced into bite sized chunks:
1 zucchini
1 yellow squash
Asparagus
1 bell pepper
2 cups button mushrooms
1 large carrot
Kale or spinach, sliced
2 cloves garlic, diced
1 C. brown rice
2 Tb. Fresh or dried basil
2 Tb. Fresh or dried oregano
¼ tsp. red pepper flakes
Salt and pepper to taste.
I link Italian style vegetarian sausage cut into chunks (can use meat sausage, broken into chunks and browned first)
Cook the brown rice as per package instructions and set aside. Put all the vegetables, 'sausage' and herbs in the slow cooker, cook on high for around 4 hours. The stew, of course can be cooked longer on low and kept warm.  You can either stir in the rice or serve the stew on top of a mound of rice.  Instead of rice, the stew could also be served over pasta.
You can keep it totally vegan and fat-free if you are not using meat sausage, or you could top it with a nice sprinkle of parmesan cheese and serve with a slice of crusty bread.